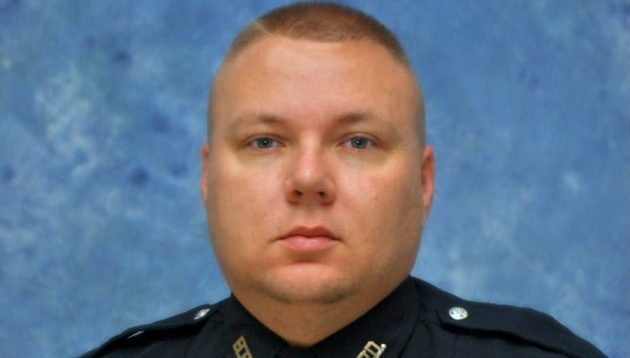 As the investigation into the fatal shooting of Hopkinsville Police Officer Phillip Meacham reaches it's conclusion, Kentucky State Police say preliminary information not previously released is now coming to light. Kentucky State Police say it has been found that on March 29 Officer Meacham, who was off duty and in his personal vehicle, observed another vehicle operating with flashing blue lights come up behind him in the area of Faulkner Drive. Police indicate the vehicle with the unlawful emergency lights was being driven by James Decoursey, who turned onto another street.
Police say Officer Meacham was able to get back behind Decoursey, and contacted an on-duty supervisor around 5:00pm, and requested a uniformed officer to assist in investigating the vehicle with flashing lights. After Decoursey pulled onto Paulette Court, a dead end street, Officer Meacham reportedly remained nearby to ensure Decoursey did not leave.
Around 5:11pm, state police say a uniformed officer met Officer Meacham before they approached Decoursey, who appeared to be working on his vehicle in a driveway. When contact was made, Decoursey reportedly shot Officer Meacham and then fled the scene. Officer Meacham was transported to Jennie Stuart Medical Center where he was pronounced deceased.
A massive manhunt for Decoursey ended after midnight when he was shot and killed by law enforcement authorities on Wilma Rudolph Boulevard in Clarksville.
Officer Meacham was laid to rest last week after a memorial service at the Christian County High School gym.
WebReadyTM Powered by WireReady® NSI