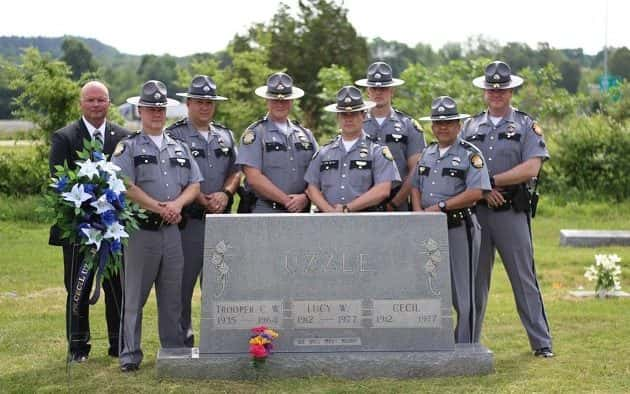 Kentucky State Police Post 2 personnel honored fallen troopers Cecil Uzzle and Joseph Ward Jr. at a memorial ceremony Thursday at Salem Missionary Baptist Church in Morton's Gap.
State police say 28-year old Trooper Uzzle was fatally injured in a vehicle crash on May 28, 1964 while accompanying Trooper Elmer Mobley Jr. in response to a call for assistance in Pike County. Their vehicle struck large rocks that had fallen in the roadway and were hidden by heavy rain and dense fog. Trooper Mobley was also killed. Trooper Uzzle was assigned to Post 9 Pikeville and had served with KSP for two years.
25-year old Trooper Ward died on April 23, 1973 after being hit by a vehicle while investigating a wreck on the Pennyrile Parkway in Christian County. State police say he sacrificed his life by pushing a subject out of the path of an oncoming vehicle. He was assigned to Post 2 in Madisonville and was a four-year veteran of KSP.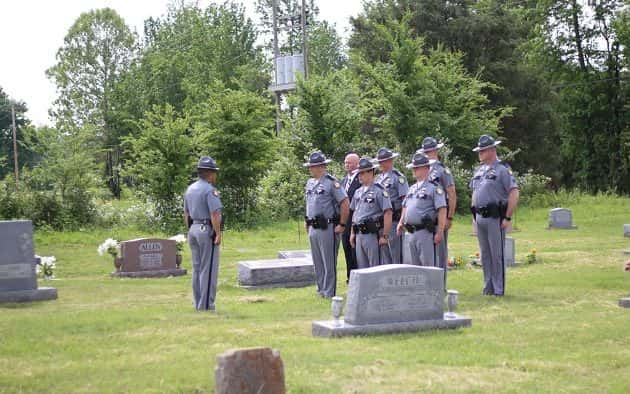 On May 24, 2011, Debbie Ward accepted the Governor's Medal of Valor, the highest honor bestowed upon an officer of the agency for heroism in the line of duty under circumstances of extreme personal hazard.
Both men have been honor with highway designations. Kentucky 1460 in Pike County has been designated the "Trooper Cecil W. Uzzle Memorial Highway", and US 25 from Dry Ridge Road to Kentucky 491 in Grant County has been designated the "Trooper Joseph Ward Jr. Memorial Highway".
Post 2 Troopers placed a wreath at Trooper Uzzle's grave Thursday in commemoration of National Police Officers Memorial Week.
WebReadyTM Powered by WireReady® NSI