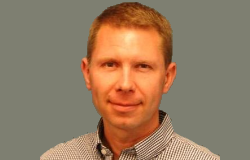 Kelly Jackson
Christian County Extension Office
Taking the Bermudagrass Out of Fescue
Bermudagrass is a difficult weed to control in tall fescue lawns. It has tolerances to heat, drought and traffic stress giving it the advantage. Also, Bermudagrass spreads by underground lateral stems (rhizomes), above ground lateral stems (stolons), and to a lesser extent, by seed making it quite aggressive and invasive. Since it is a warmseason grass, Bermuda turns brown with the first hard frost leaving behind ugly blotches in your green lawn. Although it is tough, with some intensive management it is possible to restrict its spread (suppression) and even remove bermudagrass from lawns (control). The following are some management options.
Suppression with Management Only:
Restrict nitrogen fertilizer to fall and early winter. Bermuda loves nitrogen and will outcompete tall fescue if it receives applications in summer. Make 2 to 3 nitrogen applications (1lb nitrogen/1000 sq ft) to fescue between September and February. The added nitrogen will increase the density of fescue and help shade the soil slowing down bermuda's spring growth.
Overseed bermudagrass infested areas in the fall and/or early spring with turf-type perennial ryegrass or tall fescue. This helps through competition of grasses and by masking the ugly brown color of bermuda. Apply seed at the rate of 6lbs/1000 sq ft. Consider using a power dethatcher over the area to be seeded to remove some of the Bermuda stolons and rhizomes.
Remove bermudagrass with a sod cutter and re-sod with a dense tall fescue sod. Remove the Bermuda sod at a depth of 1 inch or more. Follow-up with a rototiller, then hand remove any remaining rhizomes. Finally lay the fescue sod. Some Bermuda will recover, but it will take some time.
Suppression with Selective Herbicides:
For use in tall fescue lawns only, repeated applications, every 4 weeks, of fluazifop (Fusilade II) at about 0.1 oz. per 1000 sq ft plus triclopyr (Turflon Ester) at about 3/4 oz. per 1000 sq ft. Do not apply Fusilade II when the turfgrass is under stress from heat or drought. These applications will need to be applied throughout multiple growing seasons to obtain complete control. Slight discoloration of the tall fescue is expected. Reseeding can be done 2 weeks after treatment.
For use on all cool-season grass lawns, repeated applications, every 4 weeks, of fenoxaprop (Acclaim Extra 0.57 EC) at 0.46 fl. oz. plus triclopyr (Turflon Ester) at about 3/4 oz. per 1000 sq ft, will give good bermuda suppression. Make applications starting in late spring and repeat through summer as needed. There is no time restriction for overseeding tall fescue.
Control with Non-Selective Herbicides
Spray bermudagrass with glyphosate (i.e. Roundup). A single application will kill about 75%, a second application about 3 weeks later should kill more than 90%, and a third application 3 weeks later will get about 98% control. The glyphosate herbicide treatments are only effective in the summer months when bermuda is actively growing. The repeat applications will be ineffective unless the surviving bermuda rhizomes have had sufficient time to produce new green and actively growing shoots (new plants). The best procedure would be to spray the bermudagrass in mid-summer. After a few days, remove the dying sod with a sod cutter or spade in order to allow the underground soil to heat up as much as possible. Keep the soil surface moist in order to get recovery of rhizomes that were not killed. After about 3 weeks, spray the bermuda regrowth again with glyphosate. If time allows, repeat this procedure again in another 3 weeks. Within a few days after the last spray, prepare a seedbed and re-sod or re-seed the area with tall fescue.
Even though there may not be a quick fix to Bermudagrass troubles, with patience and persistence you will be able to return your lawn to the Bermuda-free zone you're seeking. As always, before using any chemical, read and follow the directions carefully.