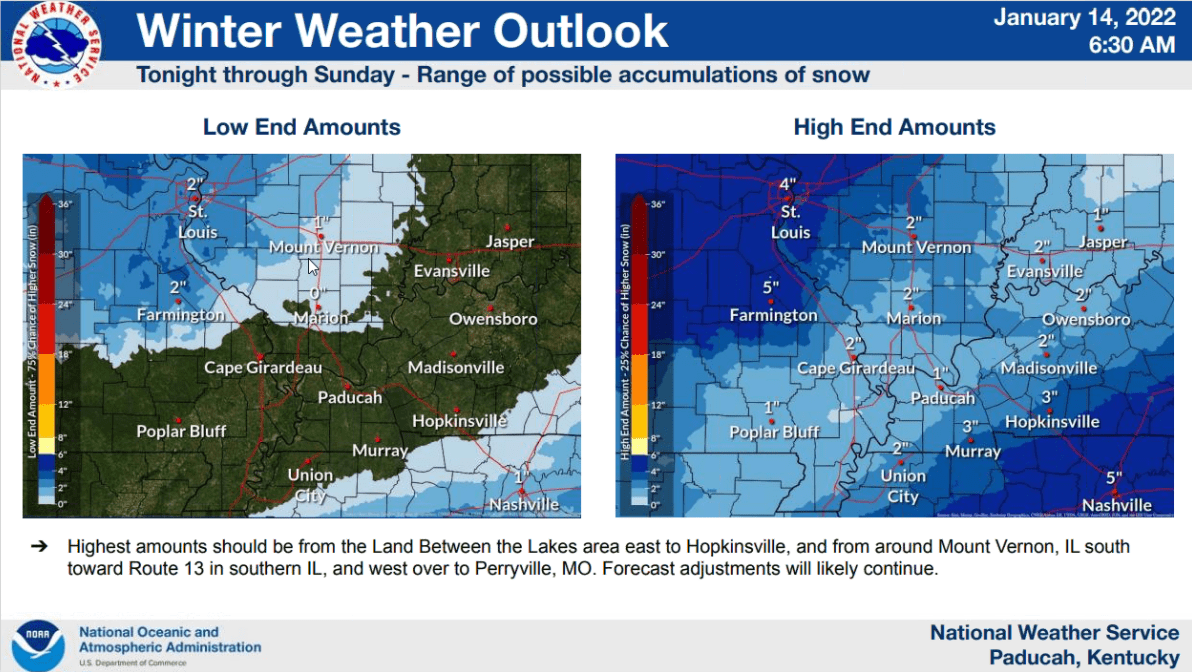 The National Weather Service in Paducah says the winter storm system approaching the region this weekend may not produce as much of a threat as initially thought.
Dan Spaeth, a meteorologist with the Paducah office, says they are continuing to monitor a winter weather system that will affect the area tonight through Sunday. Considerable uncertainty remains with respect to snowfall. The trend in the forecast data is for lower snow amounts. But Spaeth says that could still change.
click to download audioSpaeth says the first round will be tonight into Saturday, as a transition from rain to a mix, and then snow is forecast to occur from north to south across western Kentucky. However, counties that border Tennessee could see more or less snow.
click to download audioSpaeth went on to predict the weekend will be mainly a snow event with little or no freezing rain.
click to download audioNashville and most of middle Tennessee are expecting three to five inches of snow.
The National Weather Service has issued a Winter Storm Watch for Montgomery and Stewart Counties in Tennessee, with no watches issued for Western Kentucky at this time.
Your Weather Edge will continue to monitor forecasts from the National Weather Service and provide updates throughout the weekend.
Meanwhile, the National Weather Service says the haze in western Kentucky Friday appears to be smoke from wildfires in western Canada that has been brought down here by the upper-level northwesterly winds.