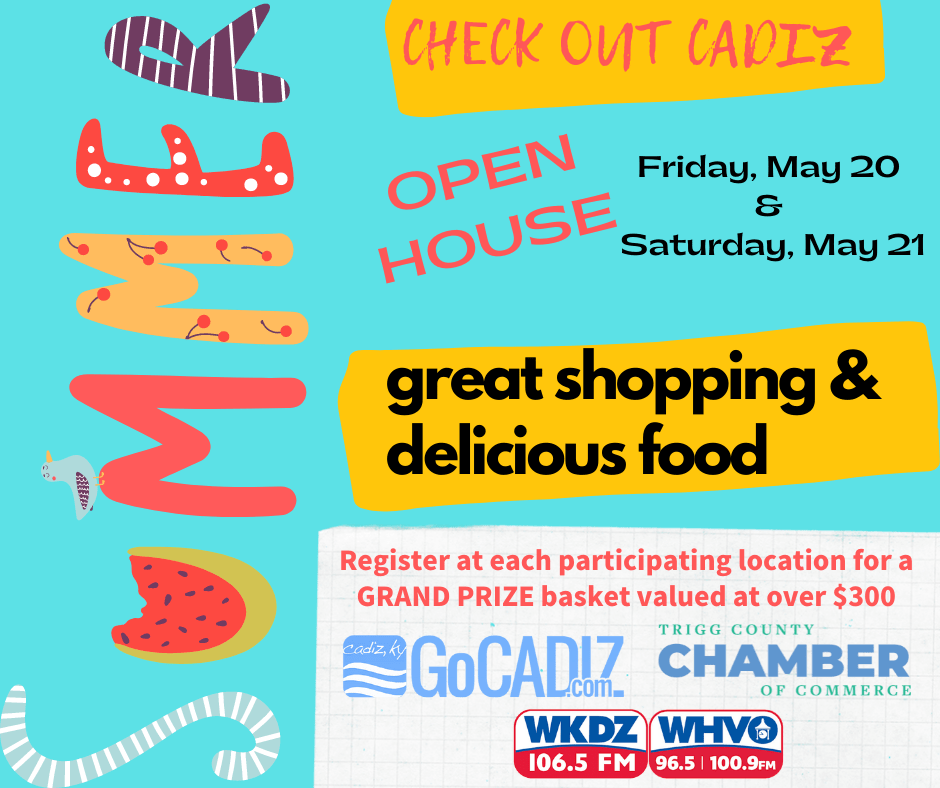 The Trigg County Chamber of Commerce Open House, called "Check Out Cadiz," continues Saturday after a warm and inviting Friday — with 13 local businesses participating in the cultivation of clientele.
Those involved come from a wide range of needs: Wildcat Chevrolet, Cadiz Dino Lube, Prickly Peach Florist, Main Street Cafe, Lady Luck Boutique, Trigg Tropics, Stuff In Balloons, Consignment World, Studio 17, the Janice Mason Art Museum, 13 Marion Gift Shop, Divine Intentions and Lakeland Realty.
Chamber Membership Director Beth Sumner noted the success of the fall open house created opportunity for this spring experience.
While there will always be a desire to peruse Hopkinsville, Clarksville, Murray, Paducah and the like, Sumner added that a day in Cadiz and Trigg County can also bring shopper satisfaction.
Hours of operation still apply this Saturday, but Sumner said the businesses are relatively clumped together — which should make shopping even easier.
For Sumner, these open houses also help out the Chamber, as there's always going to be a push for new businesses to open in Cadiz and Trigg County, and for them to join in on membership opportunities.
The calendar for the Chamber continues June 16, for the Trigg County Chamber of Commerce Annual Awards Dinner. Set in the Lake Barkley State Resort Park Convention Center, a silent auction begins at 5 PM, with dinner to follow. Sumner said nominations are open online for the four major awards: "Best Foot Forward," "Educator of the Year," "Horizon Award" and "Citizen of the Year."
Furthermore, the application process is open for the Leadership Cadiz-Trigg County Class of 2023, which opens August 17 with a Retreat & Orientation Day, and closes with a graduation on June 15 next summer. Between are 10 sessions dedicated to learning about Trigg County's place in west Kentucky, and the development and implementation of a major volunteer project.
For more information, Sumner can be contacted by phone at (270) 522-0259, or head online to triggchamber.com.