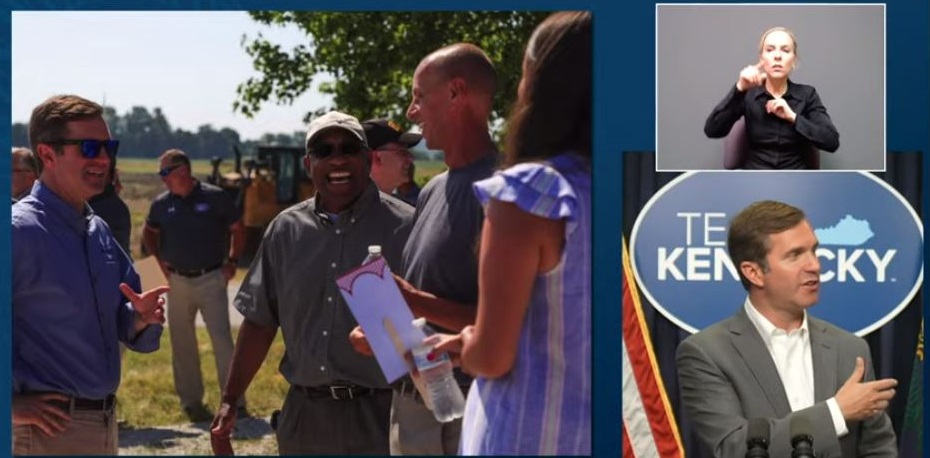 For years, local and regional business, travelers and natives have anticipated the construction of the I-69 Ohio River Crossing bridge between Henderson and Evansville, Indiana.
Wednesday afternoon, Governor Andy Beshear joined officials near the river for the bridge's celebrated groundbreaking. And on Thursday afternoon during his "Team Kentucky" update, Beshear further added that this project is the ending portion of the I-69 corridor timeline, but the beginning of a new and exciting opportunity with Indiana.
Henderson Gleaner's Michael Doyle reports it will take a decade and more than $1 billion in resources and cash to complete. The current northbound bridge will remain as a two-way road for load traffic, while the approach on the twin southbound bridges will be destroyed.
The state of Kentucky is inching ever closer to beginning its construction of the heavily-anticipated I-69/Ohio River Crossing Bridge in Henderson County.
During a November 8, 2021 meeting with the Pennyrile Area Development District, Kentucky Transportation Cabinet District 2 Chief Engineer Deneatra Henderson and Project Manager Emily Deason foreshadowed this news was on the horizon, and that the groundbreaking for the 10-year development would come "early 2022."
It widens one of the most oft-used shipping arteries in the United States, and will further open travel between north and south of the Ohio River.
Thursday afternoon, Beshear said it's the kind of change that can further invigorate economic and industrial growth for both Kentucky and Indiana.
In some ways, Beshear said the bridge closes the gap not just between travel and economy, but sides of the aisle, as leadership from Henderson, Evansville, Kentucky and Indiana — all hoping to make this bridge a reality — comes from all walks.
Harkening back to a previous president, Beshear called this an "Eisenhower" moment — in reference to the creation of the Interstate Highway System on June 29, 1956.
By 2032, travel will be different in west Kentucky.