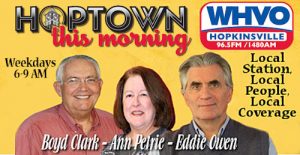 MONDAY to FRIDAY -- 06:00 AM - 09:00 AM
Hoptown This Morning – Ann Petrie, Boyd Clark & Eddie Owen


Ann Petrie
I was born in Hopkinsville, Kentucky and graduated from Hopkinsville High School and then on to Major in Journalism at LSU in Baton Rouge, Louisiana. My first radio job was at WKOA, Hopkinsville (which is now WHVO!)
I have also worked at WHOP, Hopkinsville, News TV-43, Hopkinsville, where I was News Director/Anchor. I was the Weekend Assistant Producer of News at WSMV in Nashville, TN.
My community activities include President of the United Way, and Chief of Staff to Hopkinsville Mayor Wally Bryan. I am currently the Pre-Trial Services Supervisor Program 8, Kentucky Court of Justice.
I got my first Cocker Spaniel for Christmas at age 4, and have had a dog, cat or both ever since.
When I have a few moments, I enjoy acting, singing, gardening, soduko and crossword puzzles.
---


Boyd Clark
I am basically a farm boy having been raised on a farm in the Pembroke Community. I fell in love with radio at an early age listening with Mom and Dad in the evenings before TV and during the day with my mother in the kitchen. I was fortunate enough to get a part time job with WKOA right out of high school in June of 1964. That evolved into a full time position while attending Austin Peay and the University of Kentucky. I worked various board shifts, in the news department, and eventually became the station Farm Director.
In May of 1973, I had a job offer to join the staff at Hopkinsville Federal Savings And Loan Association, so I became a banker. I stayed with that organization through the years, working my way up to Senior Vice President and Secretary to the Board of Directors. I was even President of the bank for three months while a new permanent president was being located. I retired from Heritage Bank on May 31, 2011 after being there for 38 years and 10 days.
I had a great opportunity to join the staff at WKDZ and WHVO after retirement in a part time capacity as noon news anchor and co-host of Hoptown This Morning. I started my second radio career on July 1, 2011. I love what I do, the management, and especially the people I work with.
My most important asset is my partner and soul mate, Patsy. We have been married for almost 48 years. She has been my support in all I have done. We have 3 wonderful sons and 3 great daughters-in-law.
We love to travel, and have been on some really exciting trips over the years.
If I had a hobby, it would have to be interacting and spending time with my 11 grandchildren.
---


Eddie Owen
Eddie Owen is a Hopkinsville native and started on the radio exactly one week after graduating high school. He attended UK where he majored in broadcasting. Now after 40+ years of radio and television experience, he is the co-host of Hoptown This Morning on 96.5FM and 1480AM with Ann Petrie and also holds down 9 AM – Noon on WKDZ.
These days, in addition to radio, he is involved in the travel business and frequently hosts trips and cruises through his ELO Travel Company.
The epitome of the UK sports fan, he handles state and national sports for WKDZ and WHVO, and runs the UK sports site WildcatLair.com and the Facebook forum of the same name.