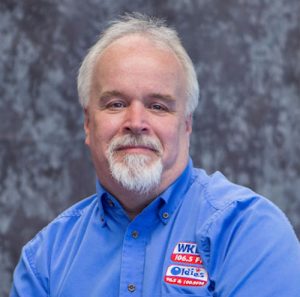 Monday -- 03:00 PM - 05:00 PM
Tuesday -- 03:00 PM - 05:00 PM
Wednesday -- 03:00 PM - 05:00 PM
Thursday -- 03:00 PM - 05:00 PM
Friday -- 03:00 PM - 05:00 PM


I'm Tom Rogers and you can hear me weeknights on WHVO, hear me on the News Edge and I lead the way with our social media. In the football season I'm the voice of Fort Campbell football. I have broadcast more than 1500 live sports events.
I am a graduate of Marion County High School, in Lebanon, Kentucky, (which happens to be located on US 68, just about 200 miles to the east) and then went on to graduate Kentucky Wesleyan College and Murray State University.
I first started out in radio doing Sunday mornings at WVJS-AM in 1979. While working for Owensboro on the Air, I worked nights and weekends on both WVJS-AM and WSTO-FM. I was also a production assistant for Cable 2 TV. I even worked in Owensboro at WOMI-AM doing afternoons from 1983 to 1984. I worked at K-100 in Hopkinsville in summer of 1983 doing afternoons. I returned to K-100 again in 1985 doing middays and operations.
It was in 1986 that I first began working at WKDZ-AM and WKDZ-FM.
From 1997 to 1998 I worked in Bardstown, Springfield, and Lebanon, as group General Manager for WLBN-AM, WLSK-FM, WAKY-FM, WOKH-FM, and WBRT-AM. I then received the opportunity to work in Princeton and Madisonville, as group General Manager for WAVJ-FM, WPKY-AM, WTTL-AM, WYMV-FM, and WWKY-FM, from 1998 to 2011.
I was able to returned to WKDZ/WHVO in 2011 where I now make my home.
You might have heard me in the past as former play by play voice for Trigg County Wildcat football and basketball as well as former play by play voice for Caldwell County sports.

I enjoy travel time and am a big fan of riding the rails, via Amtrak, and have taken train trips to San Antonio, Austin, Flagstaff, and Denver. Ultimately, my lovely wife Stacey and I hope to make the ride to the west coast. I am proud "Dad" to two adult daughters, and a "Pop Pop" to my twin grandsons. (And no, I do not spoil them. If you believe that one, I have some swampland I need to get rid of for my retirement fund.)
Somehow I still find time to play softball, read David Baldacci, Vince Flynn, Brad Meltzer, and other political intrigue authors. Am pretty good at NBA2K on Playstation, and thoroughly hooked on Scandal, The Blacklist, and of course, The Voice. Love classic rock and have seen Journey, Styx, Hall & Oates, Huey Lewis, Molly Hatchett, The Outlaws, Greg Kihn Band, Rick Springfield, Quarterflash, Starship, Night Ranger, The Commodores, Steel Breeze, and The Beach Boys, all LIVE. Still hoping to catch Def Leppard at some point.
I bleed St. Louis Cardinal red, Pittsburgh Steelers black and gold, Kentucky Wesleyan purple, and love to go to Smashville for Predators action on the ice.